Time to turn your email strategy on its head?
Is there a marketing channel more used and abused than the humble email? Email has somehow managed to retain its importance in digital marketing strategy despite becoming synonymous with spam and sleazy, aggressive sales.
Perhaps part of the problem with email as a marketing tool is its versatility. Email (when used correctly) can be effective at various points in the customer journey to purchase. It can work at high-funnel inspiration and mid-funnel planning/consideration, it's obviously good as a low-funnel driver of sales and it can be especially powerful with post-sale customer retention.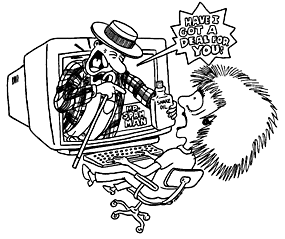 Given this versatility, the widespread misuse of email by unsophisticated marketers is mind-numbingly dumb and self defeating. Used as a blunt tool to hammer unwanted sales messages into unsuspecting inboxes, most commercial email is distrusted, blocked and filtered into the junk folder where it belongs.
Not that email isn't good at producing sales – it clearly can be, provided care is taken with relevance, segmentation and the quality of the promotion and message (see this good analysis from Econsultancy).
But proper email strategy isn't just about leads and sales. Used effectively, email can carry people beyond the moment of purchase and turn your satisfied customers into repeat business and word-of-mouth referrals.
This is a no-brainer. You've spent good money acquiring leads and customers, now you need to use every tool available to improve your Customer Lifetime Value (CLV). And email is purpose-built for the job.
Email can be effective much earlier in the customer journey too. We know that travel purchase decisions can be long and convoluted, with multiple inputs and interactions contributing to an eventual booking:
Good email can be central to nurturing your prospects towards making a purchase, sowing seeds of inspiration for future travels, or delivering useful and informative content to help people plan and research their upcoming vacations.
But getting this right means turning everything you know about email marketing on its head.
With bottom-funnel email, the idea is to offer as relevant and compelling a promotion as possible – you're selling yourself, your brand, and your offering. But that's just a narrow band of the spectrum. Elsewhere in the customer journey your emails need to be about the audience themselves, their interests, and their needs.
You need to be thinking about what they want to read, not what you want to tell them.
For a start this means ditching the ubiquitous but utterly ineffectual "company newsletter" email. You know the type: a message from the founder, some latest news and a blog post or two. There's a reason emails like this see terrible open and click rates: They're branded and promotional and they exist primarily to serve the sender, not the recipient.
What would a reader-oriented email look like? Maybe it's a "lifestyle magazine" that curates authoritative content from high quality sources around the web – all the stories and features that your particular audience would want to read, not necessarily just your own content.
For two good examples see "The Saddlebag" from BikeTours.com or "The Latin American Traveler" from Ideal South America.
At first pass it might seem counter-intuitive to send emails packed with links to other people's content but there's some method to the madness. Remember this activity isn't designed to drive direct sales, it's aimed much earlier in the customer journey.
The goal is simply to maintain a strong relationship with your subscribers, bringing your brand to mind every time they open and read your emails and, when they are ready to book, guess who they'll come back to?
With this as the cornerstone to a healthy distribution list you can insert some owned content (experiment with the mix, but an 80/20 split seems about right) and send separate, sales-focused emails aimed further down the funnel – taking precautions to segment your messages and not do anything that could damage the relationship with your readers.
Remember that proper content strategy is about using overlapping and integrated channels to nurture prospects along the customer journey. Use other tools and channels to achieve that: Facebook and Twitter custom audiences, Adwords search retargeting and SEO are all effective at reconnecting with your email subscribers later on when they approach a purchase decision.
Fundamentally this is about smart content marketing. Empathise with your audience and focus on their, not your company's, needs. Identify what they want and then do your best to provide it. Build a qualified, engaged and loyal audience, and then create the necessary touchpoints to recapture people when they're ready to make a purchase.
It's indirect and takes much more thought and sophistication than indiscriminate sales and spam, but in the long run it's well worth it.